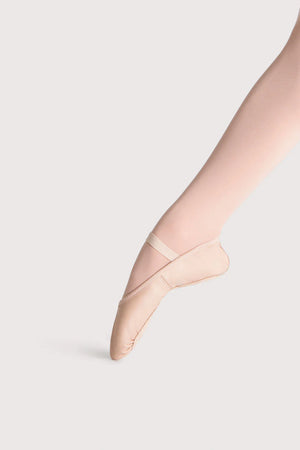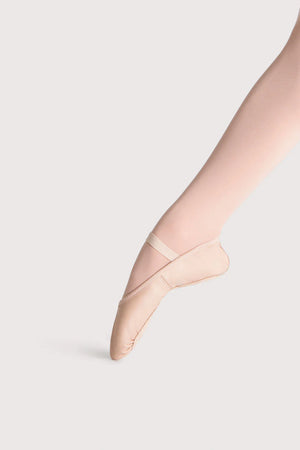 BLOCH - Dansoft Ballet Shoe Childrens / Full Sole / Leather / Pink
We are pleased to inform you that we have a sufficient stock of the Dansoft ballet shoes available at our *Croydon store for you to try on. 
Introducing the ideal ballet shoe for student dancers: The "A" grade leather ballet shoe. This shoe is perfect for immediate use, thanks to its pre-sewn elastic over the instep, allowing you to slip it on and start dancing right away.
Crafted with a strong yet flexible leather upper, this ballet shoe offers durability and support. The full suede sole provides extra resistance, promoting stronger foot muscles, making it an excellent choice for beginners.
The cotton lining ensures a comfortable fit, allowing your feet to breathe during intense dance sessions. The full sole design offers stability and allows for proper alignment of the foot.
To achieve the best fit possible, these ballet shoes are available in four widths: A, B, C, and D. This versatility ensures that dancers of all foot shapes can find their perfect match.
The shoe features a slip-on style with a drawstring fastening, allowing for easy adjustments to achieve the desired snugness.
Please note that this ballet shoe does not have a pad under the heel or a heel cushion.
The "A" grade leather ballet shoe is available in classic pink, a beloved color choice in the ballet world.
Sizes range from 7 to 10.5, catering to a variety of foot lengths.
Invest in these high-quality ballet shoes to support your ballet journey as a beginner dancer. Their durability, comfort, and immediate use design make them an excellent choice for aspiring ballet students.
We invite you to visit our Croydon store, where you can try on these ballet shoes firsthand. Our professional and knowledgeable staff will be delighted to assist you in finding the perfect pair that ensures both comfort and performance.