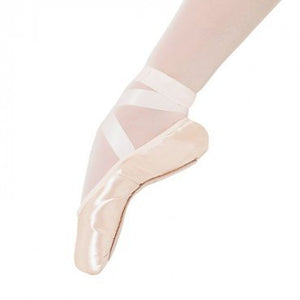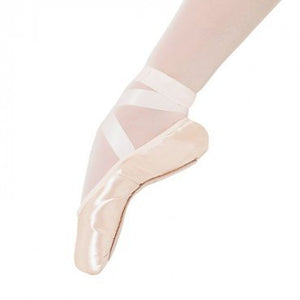 BLOCH - Demi Pointe Shoe / Soft Sole / Satin / Full Sole
The Demi-pointe is a specialized ballet shoe designed as a transitional step between the ballet flat and the pointe shoe. It is specifically crafted to provide resistance for foot and ankle strengthening, preparing dancers for eventual pointe work. The Soft Sole Demi is a variant that features a soft suede sole and shares the same last as the Suprima pointe shoe.
The Soft Sole Demi offers a streamlined shape, fitting snugly at the heel due to its tapered and narrow last. The suede sole has a narrow waist, closely mimicking the natural contours of the foot and maintaining close contact with the instep. This design ensures less resistance and hugs the arch when pointing the foot.
With low cut sides, the Soft Sole Demi accentuates the profile of the foot, showcasing its elegant lines. The narrow snug heel provides a secure fit and reduces creasing for improved comfort and aesthetics. The smaller oval platform is tapered, resulting in a streamlined appearance, further enhancing the overall look of the foot.
The upper material of the shoe is satin, while the outsole material is suede. The lining and sock materials consist of cotton and suede, respectively. The full-length sole offers support throughout the foot. Please note that this shoe does not include a heel cushion.
The Soft Sole Demi is suitable for dancers of all levels. It is available in the classic pink color, with widths ranging from A to C and sizes ranging from 1 to 8. The shoe features a cord drawstring for easy adjustments. The last shape is conventional, providing a snug and neat fit. The shank/insole is soft, allowing for flexibility and ease of movement. The vamp length is medium, and the vamp shape is U-shaped. The platform shape is oval, offering a tapered toe to streamline the foot. The sides/seam are of medium width and straight in design. The heel shape is narrow, ensuring a secure fit. The shoe utilizes 'A' paste, and there is no box cushioning.
Please note that ribbons are sold separately for this shoe.
The Soft Sole Demi is an excellent choice for dancers progressing towards pointe work, as it offers the necessary resistance and support for foot and ankle strengthening. Its sleek design and quality construction make it a reliable choice for dancers of all levels.