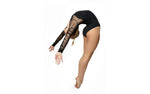 Have you got an audition coming up? How about a dance comp? No matter the occasion, every dancer needs a classic black leotard that helps them stand out from the crowd. Our style experts have picked out their top 4 little black leotards you need for that special occasion, or even just for dance class!
Style Icon
If you want stylish, look no further. The Ainsliewear Blaze Leotard with Mesh elongates your arms to create those beautiful, long silhouettes when you dance. The sweetheart neckline and flattering shape will make you feel feminine and confident – it even looks good with jeans!
Fashion Forward
As fashion-forward as they come, the Strut Stuff Carmellia Leotard will elevate your look from dancer to superstar. The lace and lycra combination gives you both an elegant and edgy look. Or if you're feeling extra rebellious, get it in yellow because why not?!
Less is More
Looking for something simple with a twist? The Capezio Twist Back leotard has all the features of your standard leotard except for the trendy back design. The unique twist detail will give you an edge when you're on the stage but its simplicity will ensure your moves get noticed.
The Performer
Stand out from the crowd in this gorgeous leotard, best suited for performances and lyrical dance styles. The Energetiks Velvet Tie Dye Leo looks super cute on and creates a stunning effect when you're under the spotlight. It also features a lovely crossed back and front lining, for support and comfort!
Want to see more of our fashion leotards? Shop!
After these styles in child sizes? Give us a call on (02) 4625 0165 or email us at sales@anythingdance.com.au
---
← Older Post Newer Post →