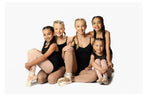 Getting ready to go back to dance can be a little stressful, especially when your list includes new dance shoes. For ballet dancers, there's so many options that it's easy to become overwhelmed – satin, leather or canvas? Split sole or full sole? And what brand?!
This year it's all about canvas ballet shoes. We asked our trend team to share 3 of their top Anything Dance brands to try before you go back to class including the features of their 6 favourite canvas styles.
1. MDM (Intrinsic and Intrinsic Reflex)
INTRINSIC
MDM's Intrinsic canvas ballet slipper has been designed aesthetically as a split-sole but built functionally like a full-sole by featuring the Dance Base Support.
The built-in Dance Base Support technology positions the canvas slipper as a viable option for young dancers. The Intrinsic protects and supports the foot and arch, and allows the intrinsic muscles to recover when at rest.
INTRINSIC REFLEX
The Intrinsic Reflex protects and supports your feet by providing something called proprioception (sensory feedback), as well as controlled resistance and critical shock absorption.
These shoes have been designed with a Reflex Contour that dynamically expands and contracts in sync with the dramatic changes of the dancer's body.
This slipper will prepare dancers for demi pointe and pointe work, while the Reflex Contour is ideal for growing bodies.
2. Bloch (Prolite Canvas and Pro Elastic)
PROLITE
The Bloch Prolite split-sole is made from a soft but durable canvas that hugs the arch when pointing. The slippers minimize ridges under the metatarsals with the oval split-sole pads creating extra support.
They come with a cotton drawstring to ensure a snug fit and are ideal for your ballet class and performances. Plus they are so easy to wash!
PRO ELASTIC
The Pro Elastic ballet slipper has been specifically developed for interdisciplinary work like lyrical, jazz, ballet and gymnastics. The pre-sewn crossed elastic straps are super handy and contour to the foot in a full range of movement.
This soft elastic also evenly distributes tension around the foot relieving pressure on the Achilles tendon.
3. Capezio (Juliet and Hanami)
JULIET
Capezio's canvas Juliet split-sole features a unique "diamond gusset" which provides a seamless sculpted arch. The ability to feel the floor is further enhanced by the substitution of a soft moisture absorbent lining in place of traditional sock lining.
The Juliet is sturdy yet soft with a drawstring you can't pull out.  The treated suede outsole resists moisture for long lasting wear.
HANAMI
This split-sole ballet shoe features the ultimate comfort and fit. The four way stretch canvas hugs your foot, feeling like a second skin.
The buttery soft lining provides comfort while maintaining that unique seamless Capezio design.
If you like any of the above styles, contact us to make an order or enquiry. Still can't decide? Visit us in store to try our range of other ballet shoes.
---
← Older Post Newer Post →