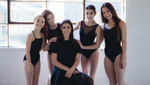 When Daniela Kelly - co-founder of Anything Dance - began her business journey, she had no idea she would be paving the way for small dance boutiques to take over the online world. 
Now, with her gorgeous 19-month-old son Xander and supportive husband of 5 years motivating her to work even harder, Daniela has introduced more exciting brands to her fashionable curation of dancewear and isn't slowing down any time soon.
We sat down with Daniela to talk about her journey as an Owner of Anything Dance, including her biggest challenges, highlight moments and must-have items this season. 
Where did the idea of Anything Dance begin?
Our main idea was to service Sydney's Inner West dance community. We wanted to bring in international brands, as well as spotlight our favourite local brands, all in one destination. It would be a store where you could try on amazing dancewear all in place to streamline the shopping experience.
Did you always know you wanted to start your own business?
Becoming a business owner took me by surprise - in a good way! My career has been my biggest teacher and it was something that I just fell into it naturally. Growing up, I was very much involved in the dance industry and always loved choosing my costumes for auditions and performances. I would often think about how I was going to stand out on the stage with my outfit choices. I lacked a lot of confidence when I was younger, so this was an outlet where I could express myself and feel great in my own skin. I think that's where my passion for this started! I get so much joy when our customers try on that beautiful leotard for the first time and I can see they are ready to take on the world! 
What are the challenges you've faced and overcome since Anything Dance began?
As a business owner, I think managing a team to nurture, inspire and help to grow is an ongoing and ever-important challenge. People who become a part of your business are paramount to your success, so coaching a team has been a rewarding challenge and I'm so proud of all of my staff.
My age has also been something that I've learnt to overcome. Growing up with a business at the age of 23 meant I was often second guessed by some people in the industry. When your experience is being questioned, it can be challenging to prove yourself but I used it as motivation to do better and show everyone that I'm more than capable of running a successful business.  
Was it challenging to build a business that is now online with no tech-background?
Yes, absolutely! It took 5 years of trial and error - but I knew there was a gap in the market to shop for a variety of dancewear styles at different price points online. I wanted a website that could offer an amazing customer experience because we have that in store. Particularly with shopping for dance shoes, it's not an easy purchase. Finding the right fit is hard, so we needed to make sure all the right information and assistance was online too - and offer a highly accessible team via our live chat.
What's the most important trait an entrepreneur/business owner should have?
Perseverance. The ability to change with the times as well as navigate through the unknown is essential in business. You can take a lot of knock-backs when you're getting started so you need to be able to adapt quickly and keep trying otherwise you'll eventually give up.
What has been your highlight moment to date as a business woman?
Working with so many incredible brands and being able to offer a multi-channel business to our customers. We are one of the most diverse boutiques out there and we have curated an amazing line of dancewear brands that I'm extremely proud of. 
Your top 5 must-have items in store right now?
All of Ainsliewear's leotards are stunning but I'm especially crushing on their Blush collection. These styles are perfect for ballet and contemporary dancers between 10-14 years old.
These are great for Winter time to warm up your feet and protect your ankles.  I love that they can be worn on their own or over your dance shoes to and from dance class.
This brand is ultra cool and their sweatpants are perfect for the colder months. They feel super luxurious and are so on trend for this season's loungewear look.
The designs are so fashion-forward with really cute patterns and colours. Their garments can even be reversible and are extremely well made. If you're looking to stand out from the crowd, Sylvia P is your brand.
You can't go past the Hanami's soft, durable leather which is perfect for your performance, exam or class shoe. It's a great all rounder for ballet with classic features that will last with wear. 
---
← Older Post Newer Post →