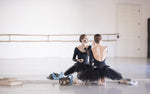 Here at Anything Dance, we love celebrating talented artists who are making it big in the dance industry. So, you can only imagine our excitement when we found out ballet star and actress, Juliet Doherty would be visiting our Sydney store!
Juliet has won gold twice at one of the biggest ballet competitions in the world – the Youth America Grand Prix, danced at the Radio City Hall alongside the famed Rockettes and performed in The Kennedy Center musical Little Dancer. The young role model also has a huge social media following and uses this platform to share parts of her personal and professional life with her fans.
Despite all of her success, the 20-year-old remains as humble as she is stunning; greeting her Aussie fans with a warm hug, spending time signing their posters and posing alongside the young dancers for a photo.
We chatted to Juliet about ballet, her two new films and what it takes for an aspiring dancer to make it in the industry.
How did you first get started in the dance industry?
Juliet: I began dancing at my great-grandmother's dance studio when I was only three years old. My Mum was also a dancer and coached me from a young age. My family has always been so supportive and continue to be very much involved in my life, including my training.
Tell us about where you grew up?
Juliet: I grew up in Albuquerque, New Mexico. At 14, I danced in the American Grand Prix and I moved away from home at 15 to pursue my career in dance. I still go home and spend time with my family, either hiking or hanging out with my sister.
What do you like most about Australia?
Juliet: Definitely the food and the people, everyone is so nice! My Dad was actually born in QLD!
Tell us about your role in the upcoming movie On Pointe?
Juliet: In On Pointe, I play an 18-year-old dancer from Phoenix. My on-screen mum doesn't really believe I can make it in the industry and thinks I should be trying to do something more realistic with my life.  My character really resonates with me because I've definitely felt misunderstood and I know what it's like to fight for my passion. It also made me feel really lucky because my family has always supported my dream to dance.
Do you think you will continue to act?
Juliet: Definitely, I love acting! I'm actually starring in another movie that will be out soon – it's called High Strung: Free Dance.
What advice would you give to aspiring dancers in Australia?
Juliet: Just trust yourself and your passion. You can still be open to other opinions but never stop trying, no matter what. Sometimes you have to move to make your dream a reality and it can be hard to be away from family and friends, but keep believing in your goals!
How much do you train?
Juliet: During a performance season, about 8 – 12 hours a day.
Do you have any health or nutrition tips?
Juliet: I stick to a vegan, plant-based diet as I find I have more energy and feel better all round. Just make sure you eat a lot if you dance a lot…and you can also treat yourself occasionally!
Best life experience so far?
Juliet: Ooh, that's a tough question. Probably dancing with the Rockettes on New Year's Eve or dancing at the Lincoln Centre in New York City.
Describe your favourite costume and warm up outfit?
Juliet: My favourite costume would be anything blue because it's my favourite colour. For warm up, I'd probably say my Star Wars knit tights from Target!
What are your goals for the future?
Juliet: I want to continue to dance and act, and just enjoy every minute of every day. I don't want to take the little things for granted.
What an inspiration! Good luck with everything Juliet and thanks so much for giving us a glimpse into your exciting life.
---
← Older Post Newer Post →